Can Anyone Top That? Bettina Hoy Leaves the Field in the Dust at European Eventing Championships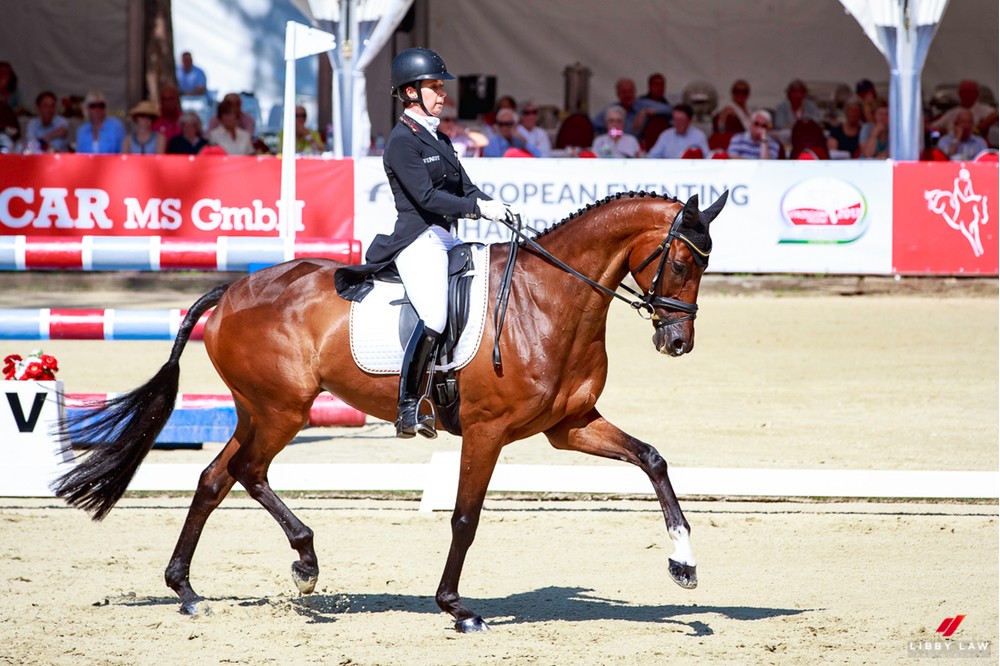 Bettina Hoy is competing at her tenth European Eventing Championships this weekend, and she's making it count.
The 54-year-old German Olympian knew she'd had a dynamite test on Seigneur Medicott. She threw her arms around the horse's neck and fist pumped at the end of her test. But her score – a 24.6 – put them ten points ahead of the rest of the field, giving tomorrow's group of dressage competitors little hope of claiming the lead ahead of cross-country. Bettina showed her mastery of riding a precise test and finding every possible point in the sandbox. In her test, she earned two perfect 10's for the rider score.
Fellow German Julia Krajewski and Samourai du Thot were the morning leaders and the first pair to compete for team Germany, their 36.3 score putting them on top until German teammate Bettina Hoy (24.6) and France's Thomas Carlile on the stunning gray stallion Upsilon took the ring (34.4).
"Bettina is a super rider to watch. I expected to be behind her, but perhaps not quite so far behind!" said Thomas Carlile. "Upsilon is mature for his age and very precise, so I was able to put the pressure on myself, but in a good way."
Third-placed Julia Krajewski has trained with the cross-country course designer, Rüdiger Schwarz, for a decade. So, will she be better prepared than her fellow competitors for the challenge of Saturday's cross-country?  
The commentators, John Kyle and Spencer Sturmey, praised the judges' fairness, saying, "When they see the good work, they're rewarding the good work. When they're not seeing the work they want to see…they're not giving (points) away."
HDM's Favorite Ride
Besides Bettina, one of my personal favorite rounds to watch was a very unexpected one. While Katrin Khoddam-Hazra's test on Cosma earned them a disappointing score (58.0), there's nothing more enjoyable than watching a horse with floppy ears – especially when it's a chestnut mare. Cosma went around looking quite pleased with herself, ears flopping with every stride. She even had glitter sprinkled into her quarter marks, as all sassy diva mares should.
Keep up with schedule and results here. And you can watch the action on FEI TV starting at 4:15am EST. The second batch of dressage riders go tomorrow, and the good stuff (cross-country) starts on Saturday.