Brittany Fraser-Beaulieu's Exercise for Symmetry and Contact

Canadian dressage rider and 2015 Pan Am team silver medallist Brittany Fraser-Beaulieu has trained her horse All In from five years old to the Grand Prix level. She shares her one of her favorite exercises for schooling at home.
The movements that I like to work on to get my horse supple and a bit more over the back and evenly pushing into both reins is a lot of shoulder-in, haunches-in and renvers. Turning that into a little bit of half-pass to make sure I have his shoulders exactly where I need them, to make sure I have him on his hips waiting for me.
In the Grand Prix, you have to make sure you have control over all of your movements and I feel that just doing that in your warm up, it gives you very good control of the entire horse. If he's a little stiffer on one rein, you find that out very easily doing shoulder-fore (or shoulder-in), haunches-in, renvers. And then in the half-pass I like to ride very forward to very back to make sure the balance is under my seat and I have control.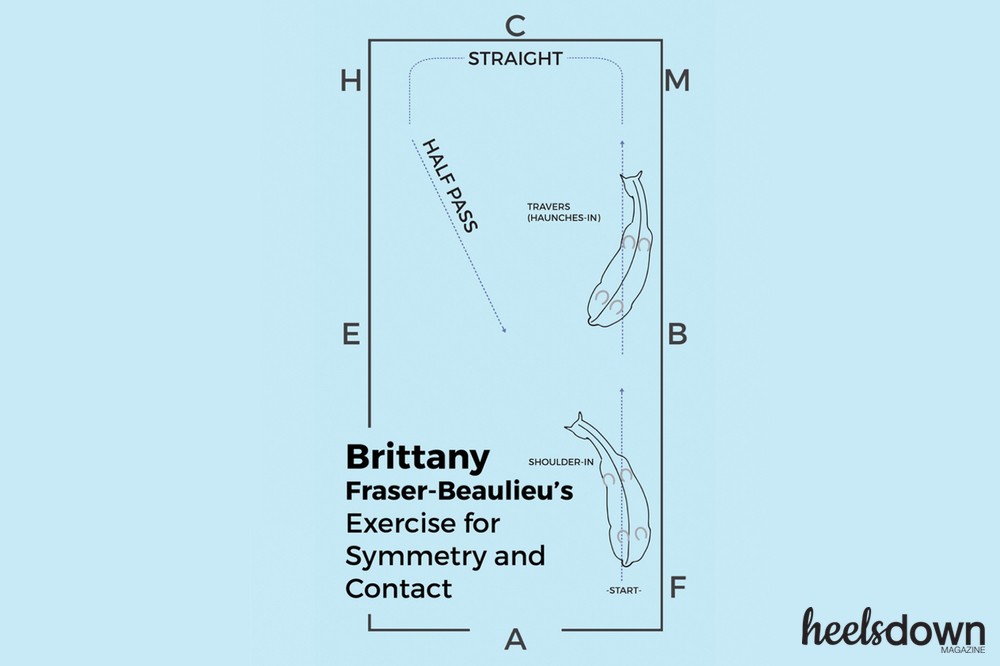 I try to stay in the middle of my horse. I don't really tend to lean to one side or the other side. In half-pass, yes, I sit in the direction we're going. Haunches-in, I sit a bit more to the inside, but in shoulder-in and shoulder-fore I try to sit very straight in the saddle and straight in my back. I want to feel both hind legs evenly and both hips evenly so I can control that.
Sometimes when I lean off to the side, a head tilt starts very easily. A lot of riders would agree with me that if you don't sit the shoulder-in properly, a head tilt can happen. When the judges see that, you get a much lower mark. That's a pretty common problem I see when I'm coaching as well.
I would do shoulder-in from F-B then switch to haunches-in then I would come around the short side and out of the corner I would do a half-pass. In the half-pass, I never just go one speed. I test my speed control to see if I have a forward button and brakes.
---
This article first appeared in the October 2017 issue of Heels Down Magazine. For more stories worth reading, subscribe now in the app and get a new issue delivered every month.