Asmar Equestrian has been a longtime supporter of equestrian sport, from sponsoring horse shows to being named the Official Apparel of the Canadian Equestrian Team (CET) for the 2016 Rio Olympic Games onward. The company is kicking it up yet another notch, and wants to send you with a friend to the 2018 FEI World Equestrian Games (WEG) in Tryon, Nc. in September.
How does it work?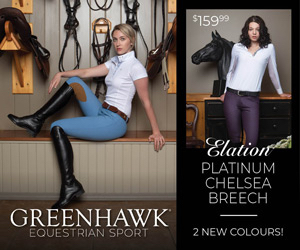 Once a month, for eight months, Asmar Equestrian is highlighting each of the eight equestrian FEI disciplines: Jumping, Dressage, Para-Equestrian Dressage, Eventing, Driving, Endurance, Vaulting and Reining. There will be a specific challenge to go along with each month. By accomplishing the challenge, each participant will be entered to win a grand prize which includes two tickets to the FEI World Equestrian Games, three nights accommodation, a four-day car rental, and a $2,000 Asmar clothing package. Additionally, each individual challenge winner will receive $500 in Asmar clothing.
What is this month's challenge? 
This month is Vaulting. Not everyone has access to a vaulting horse, that's why the challenge is on-the-ground acrobatics. Show off your cartwheels, handstands, headstands or any other variety of cool moves.
How do I enter? 
Head on over to the Asmar Equestrian website to watch the challenge video.
Take a video or photo of you performing the challenge.
Use the hashtag #AsmarWEGChallenge to enter.
Share your photo or video on Instagram or Facebook. Make sure the post is set to public.
The first challenge ends on April 5th. Good luck!
Don't forget that there's a new challenge every month, with a new featured discipline. Stay tuned for the next challenge by following Asmar Equestrian on Facebook and Instagram.