Busy weekend? The Heels Down Rewind has you covered with everything you need to know to stay up-to-date on current equestrian events. All of the good stuff, none of the fluff. Check back every Monday for more.
And the Oscar Goes To…
Richard Spooner! Under beautiful blue skies for Derby day Sunday, a packed venue watched Richard Spooner and Cristallo make history as the winners of the CNOOC Nexen Cup Derby at Spruce Meadows. Since the inception of the 'National' Derby, there have only been 2 horse/rider combinations that have scored a hat trick in winning the derby 3 times in a row. Those pairs were Ian Millar with Big Ben and Beezie Madden with Judgment. On Sunday, Richard Spooner (USA) and the 19 year-old Cristallo were added to the list of legends.
"He fears nothing, he is incredibly brave and he just kind of drags me around – the whole course – I don't know if you can tell but I'm just saying whoa, asking his to slow down! You know after every jump, it's like I'm throwing a parachute out the back of a funny car to try and get some drag to actually slow us down." – Richard Spooner on what makes Cristallo such a fantastic derby horse.
It's a beautiful day to make history.
You Go, Glenn Coco
A little rain was no match for Patricio Pasquel and his mount Babel in the 1.60m RBC Grand Prix at Spruce Meadows on Saturday, June 10. After an intense first round under unfortunate weather conditions, Pasquel was one of four to jump off and clocked in at 43.44 seconds, clinching the win for him by over 3 full seconds. Right behind Pasquel (MEX) were the Canadians to complete the podium, Keean White finished in 2nd and Vanessa Mannix was close behind in 3rd.
"Everyone tries to come up and tell you what to do but I said – no I'm just going to do my thing because I knew the horse is so fast on the ground. God will tell and he did tell today that Babel wanted to win." – Patricio Pasquel
Babel wanted to win and win he did. You go, Patricio!
Stranger Things
The weather may have been no match for Patricio, but it sure got the best of some riders in the RBC Grand Prix. Out of 38 starters, 5 pairs retired, 1 rider was eliminated and 2 riders scratched from competition to see only 4 riders jump off. At a incredibly competitive venue such as Spruce Meadows, it is unusual to see this many of the world's top riders unsuccessful in a class.
---
Moya Shines in LGCT Grand Prix of Cannes
It was Sergio Alvarez Moya's time to shine in Cannes (FRA) as he raced to the win in the Longines Global Champions Tour Grand Prix of Cannes. Aboard 12-year-old gelding Arrayan, Moya took his first LGCT win in style to defeat the likes of Simon Delestre on Hermes Ryan (2nd) and Daniel Deusser on SX Hidalgo v. (3rd). Moya's jump off time of 35.76 seconds was enough to take the win by almost a full second as well as a hefty €99 000.
"Grand Prix are so hard to win. There were so many riders in the jump off today, but it turned out to be fantastic, especially for me." – Sergio Alvarez Moya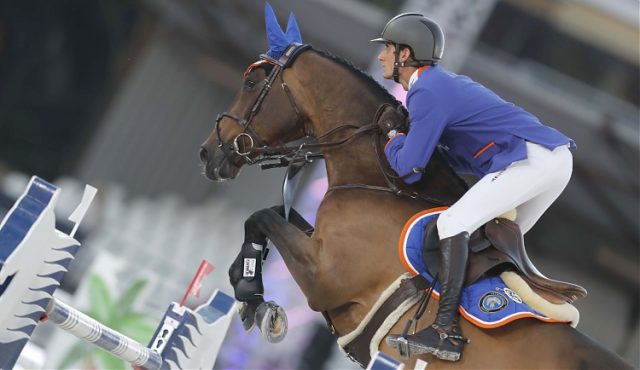 Team Vaalksenward United is Back on Top in GCL Cannes
It was one dramatic competition in the Global Champions League in Cannes as Team Vaalkensward United took the victory in Cannes and have now regained the top spot in the overall league rankings. The competition was tough and adrenaline was running high as each team attempted to better their rank, or hold it at the very least. However, it was Vaalkenswaard United that took the win and the number 1 spot on the leaderboard once again. Only 4 points ahead of the Hamburg Diamonds in the rankings, the pressure is on for Vaalkensward United as they look to hold their slot in Monaco at the end of the month.