By Courtney VanderBrook
We all know horses are expensive. I mean really expensive. Even if you don't own a horse you still understand lessons and time in the saddle are costly. With this costly habit we have, sometimes our wardrobe's suffer. Not to mention equine companies feel the need to charge us $15 for a pair of socks! So how do you stay stylish in the barn and still have enough money to get buy? I'm here to let you in on a few of my secrets to riding in style without breaking the bank.
A few months ago, a barn friend introduced me to shopping on Facebook. We use social media for just about everything these days but shopping…. on Facebook? I was a bit leery to order my first pair of breeches but after realizing how quick and easy it was, I was hooked. So how it works is you can search different groups or pages pertaining to equine apparel. Once you have been added to the group people from all over the country will post things they are looking to sell. Some of these posts come from actual tack stores as well as individuals looking to sell personal items. The best part is you can find what your looking for at almost half the cost! If you aren't afraid of clothes that have been worn once or twice you can usually find even better deals.
I payed $65 for these Grand Prix breeches. They were brand new and came from a tack store with the tags still on them! They were originally $104.
Below are a pair of Pikeur breeches I picked up used for $75. New, these are around $300! If I hadn't been told they were used I wouldn't have noticed!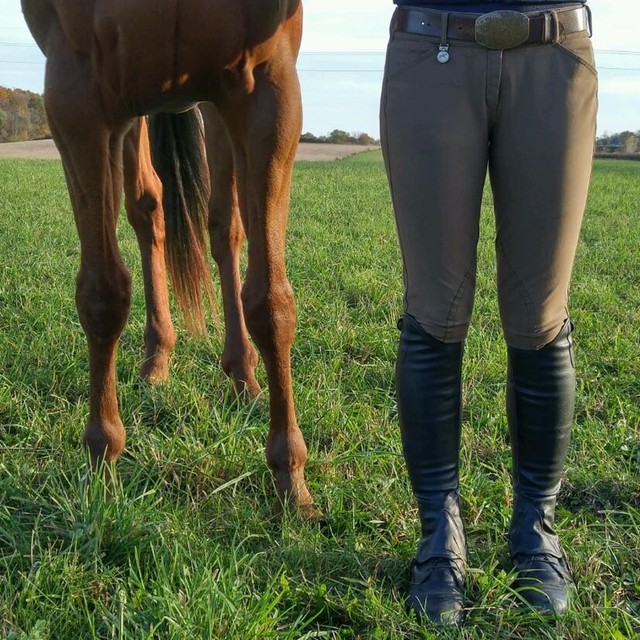 Recently I went on a breech-buying binge but there are so much more on these pages. Everything you can think of, from tall boots to riding shirts, to jackets and more. You can find some helmets for sale on these pages as well. I don't recommend buying a helmet from a private seller even if they say it's brand new though. You never know, and you don't want to take those kind of risks when buying a helmet.
In our area, rescues and local farms will often put on tack sales. If you can find the goodies you are looking for at one of these you can bet it will be dirt cheap. Sometimes, especially at the rescue sales, people will donate brand new items to be put in the sale.
My last suggestion for staying stylish without breaking the bank is to do your homework. Search the closeout sections on websites and wait for sales. Have a price in mind of what you want to pay for something and keep searching until you find what you're looking for in your price range. It's out there, you just have to be willing to put in some elbow grease. Nothing is more exciting than looking amazing in the barn and having paid half the cost!
Happy shopping!
Courtney