It's Independence Day! In honor of the 4th of July today, we're taking a look at seven members of the American horse community who who are truly helping to make America great. From Mustang trainers to an iconic sporting hero, let's take a look at who made our list of great American horse people (and equines!).
1. American Pharoah
>
Sure, we're now two years removed from our last Triple Crown winner, but that doesn't mean that American Pharoah has fallen off of the relevancy wagon. "America's Horse", as he has been called on numerous occasions, now spends his days living the high life at his home base in Lexington, Ky. with Coolmore America. He's also preparing to travel to the Southern Hemisphere for the 2017 breeding season at Coolmore Australia. American Pharoah is also getting his very own street named in his honor in Lexington — American Pharoah Way. The gentle bay stallion still gets daily visits from his adoring fan base, who love to relive his glory days racing and remember how they were privileged enough to be around during an iconic moment in American sporting history.
2. Valerie Ashker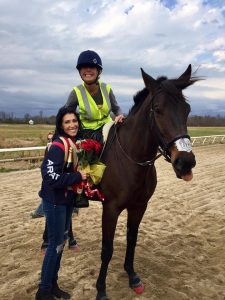 Valerie Ashker is a long time advocate of the Thoroughbred, using her natural eye for sport prospects to pluck the most promising prospects off of the track and re-train them herself, sell them or send them to her daughter, Laine, for repurposing as event horses. Valerie is a prime source for Thoroughbred expertise and even took her love of the breed one step further by riding across the country in 2016 for Second Makes Through Starting Gates. Together with Peter Friedman and their two off-track Thoroughbreds, Valerie completed a 2500 mile horseback journey from Northern California to Virginia to raise awareness for the American Thoroughbred.
3. Blackfoot Mystery
Blackfoot Mystery is a true blue American Thoroughbred who first raced under the same name before coming off of the track to pursue a new career. After racing just three times and earning a mere $1,200, Blackfoot Mystery eventually landed with event rider Kelly Prather, who would later sell the horse to Boyd Martin. Boyd then took "Big Red" to the Rolex Kentucky Three-Day Event in 2016 and was selected to represent the U.S. at the Summer Olympic Games in Rio de Janeiro later that year. Boyd and Blackfoot Mystery finished 16h individually in Rio, officially leaving an American Thoroughbred stamp on the Olympics for the U.S.
4. Mark Bellissimo
Mark Bellissimo has put his name at the forefront of equestrian households all over the country thanks to his dedicated efforts to grow the equine industry's visibility within the public market. Mark and his business partners have invested millions of dollars into the industry and have also taken the commercial equine real estate market by storm. They now own the Palm Beach International Equestrian Center in Wellington, Fl., The Colorado Horse Park in Parker, Co. and the Tryon International Equestrian Center in Mill Spring, Nc. At the helm of projects such as the Wellington Eventing Showcase, the American Eventing Championships, the Global Dressage Festival, and bringing the 2018 World Equestrian Games to his Tryon facility, Bellissimo is working hard to bring his visions to light, making equestrian sport in America as top of the line as it can be.
5. Laura Graves
U.S. dressage rider Laura Graves is a true testament to the idea of a dream turning to reality. Laura was just 20 years old when she purchased the quite unruly Verdades from a video. Laura had just begun a career as a hair stylist when she purchased Verdades, who was within her low budget. The horse was unruly and explosive, and it proved impossible to sell him when she thought perhaps he was not "The One." She set her teeth and got to work, deciding that it was now or never when it came to her big time dreams. Seven years later, Laura and Verdades are at the forefront of the American dressage circuit, most recently winning the Grand Prix and the Freestyle at CHIO Rotterdam and helping bolster the U.S. team to a win in the Nations Cup leg. She'll next head to Aachen later this month to tackle more of the world's top competition, walking proof that hard work pays off in spades.
6. Kelly Gage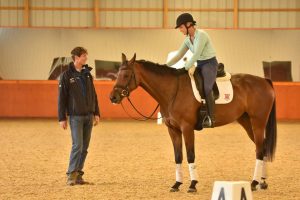 Ten years ago, avid dressage rider Kelly Gage left her full-time job with Amazon to strike out on her own, starting Team EnGaged Clinics to bring top educational opportunities to the U.S. In that decade of work, Kelly has brought countless big names stateside for educational clinics and master classes, such as William Fox-Pitt, Carl Hester and Edward Gal. "I started off as an Adult Amateur wanting to learn and to create access," Kelly said. "Now going on a decade of hosting clinics, it's become so much more than just another clinic. It became apart of people's lives; their own progression and connection to their journey."
7. Joe Williams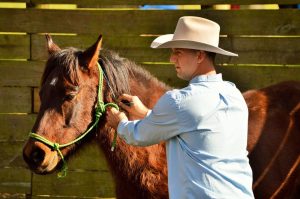 Joe Williams is a well-known trainer who bases in Ocala, Fl. Joe is perhaps most well-known for his work with Mustangs, preparing them for challenges such as the Extreme Mustang Makeover by taking them in fresh from a round-up and patiently instilling confidence and foundational skills in them from the ground up. Joe is patient and wants people to know how versatile and trainable the Mustang breed is, always referring to "Demand The Brand" as the catch phrase for the American Mustang. "The most important thing I've taken in from working with wild Mustangs is how to be patient," Joe said. "Slow and steady always wins the race. There is no room for anything but a clear mind when working with these amazing animals."